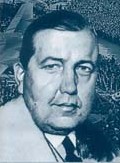 Hurja, Emil (d. 1953)
of

Crystal Falls

,

Iron County

, Mich. Delegate to Democratic National Convention from Michigan,

1936

;
candidate in Republican primary for

U.S. Representative from Michigan

12th District, 1946, 1948.
Died in

1953

. Interment at

Arlington National Cemetery

, Arlington, Va.
---
The collection
of Sir Emil Hurja (1892-1953),
1911-1926
- newspaper editor
1927-1939
- financial analyst
1932-1937
- assistant to Jim Farley and executive director of the

Democratic National Committee
and collector of

Andrew Jackson

manuscripts
1939-1945
- editor of Pathfinder magazine
was purchased
for the

Tennessee Historical Society

by Mr. P. G. Bigler, New York, New York; Mr. Rosser J. Coke, Dallas, Texas; Mr. R. A. Hummel, New York, New York; Mr. Robert G. Stone, Boston, Massachusetts; Mrs. Margaret S. Weeks, Woodbury, Connecticut; and Mr. Henry J. Wolff, New York, New York, in 1954
The collection occupies 6.30 cubic feet of shelf space, and numbers approximately 550 items and 3 volumes
Single photocopies of unpublished writings in the Sir Emil Hurja Collection may be made for purposes of scholarly research
---
Emil Hurja, a native of Michigan's Upper Peninsula, was the pioneer of political polling, and was instrumental in the success of the presidency of Franklin Delano Roosevelt and his political program, "The New Deal" Later, a disillusioned Hurja broke with Roosevelt over policy and lost a run for Congress. Known as "the Crystal Gazer from Crystal Falls," Hurja was a local boy with a national impact.
Can you name one person born in Michigan's Upper Peninsula who has made the cover of Time magazine? How about Emil Hurja (1892-1953) of Crystal Falls, whose picture graced the cover of Time magazine in March of 1936?
Hurja was Franklin Roosevelt's private pollster, the first man to systematically gather data on political behavior and use them to win elections. More to the point, Hurja helped transform American politics:
He paved the way for FDR to centralize power in Washington, and use patronage to sway voters
Hurja (pronounced Hur-ya), the son of Finnish immigrants, grew up in mining country in Crystal Falls and graduated from high school there. Attracted to politics, Hurja became a newspaper reporter after graduating from college, and worked for the Democratic Party during Roosevelt's campaign for the presidency in 1932.
Political polling was almost unknown then, and Hurja studied samples of voters to decipher trends in the campaign and help FDR win votes. Assaying politics, Hurja explained, was like assaying ore back in Crystal Falls: "You take sections of voters, check new trends against past performances, establish percentage shift among different voting strata ... and you can accurately predict an election result."
When Hurja predicted—almost precisely—Roosevelt's popular and electoral vote in 1932, the novice pollster found a place in the new president's administration. He worked closely with FDR to strengthen the spoils system and shift power to the executive branch with the launching of the New Deal.
Just as Hurja's polling of different groups was changing the analysis of politics, so the flood of new government programs under FDR was changing the conduct of politics. Fresh subsidies for diverse groups, from farmers to silver miners, showed Hurja how transfer payments influenced voting behavior. He did regular polling and briefed Roosevelt on how his use of taxpayer dollars was winning voters to the Democratic Party.
The 1934 off-year elections were the first test of how thoroughly government largess was changing political loyalties
Hurja's polls showed a swing to the Democrats among the groups winning subsidies from Washington. Therefore, he broke down federal aid by congressional district and sent bulletins to Democratic candidates: "You can use this [information on the inflow of government money] any way you like," Hurja wrote them, "in speeches, radio talks, or interviews." When the Democrats surprisingly won substantial gains in Congress, Roosevelt claimed that Hurja's predictions and the Democrats' success were "the most remarkable thing" he had ever seen.
After 1934, Roosevelt's popularity, and the regular flow of new federal money, increased the president's power even more. With Hurja taking his regular polls and sending the news to the president, Roosevelt had the upper hand in his relationship with Congress. His programs and his endorsements shifted funds in and out of districts, and left senators and House members coming to Roosevelt with hats in hand.
The climax of Hurja's career was his active role in Roosevelt's landslide re-election in 1936
Hurja was quoted in many major magazines and his notoriety reached a peak when he made the cover of Time. In his polls, he studied trends and plotted results on maps of states and of the nation. Melvin G. Holli, author of "The Wizard of Washington," observes, "With Hurja's advice, . . . [James] Farley, who directed the flow of funds for the Democrats, would signal the announcement of new WPA (Works Progress Administration) projects and relief programs or designate speakers and campaign materials for those states that Hurja's notebook indicated were doubtful." Hurja even used WPA workers to do his polling.
Shortly after Roosevelt's landslide win, Hurja broke with the president. The pollster was especially upset with FDR's court-packing scheme and the trend toward an imperial presidency. Regretting his support for centralized government, Hurja became a Republican. In fact, he returned to Crystal Falls in 1946 and ran for Congress in Michigan's 12th district. He lost his race, but he advised other Republicans and thereby helped that party take control of Congress.
Yes, Hurja admitted, he trusted too much in Roosevelt, but he had the courage to admit his mistake and try to correct it. Known as the "Crystal Gazer from Crystal Falls," Emil Hurja was a local boy with a national impact.
Burton Folsom, Ph.D. is historian in residence at the Center for the American Idea in Houston,
Texas and an adjunct scholar with the Mackinac Center for Public Policy
---
RM Eisinger and J Brown. Lewis & Clark College, 0615 SW Palatine Hill Road, Portland, OR 97219, USA

Polling as a means toward presidential autonomy: Emil Hurja, Hadley Cantril and the Roosevelt administration. President Franklin Delano Roosevelt's private polling served as a historic turning point in American politics.
Roosevelt, faced with a constricting party apparatus and hostile relations with the media and Congress, sought to strengthen the executive branch in order to achieve a measure of independence from the Democratic Party, the media, or Congress. Polls, we argue, allowed Roosevelt and subsequent presidents to gauge public opinion without the consent of parties, the media, or Congress.
Emil Hurja's polls for the DNC and Hadley Cantril's polling for Roosevelt explain this new function of the presidency. Emil Hurja disseminated poll data to the president, employing statistical techniques that began to obviate the local Democratic party as an institutional conduit between the electorate and the executive branch. Hadley Cantril was more than a poll data disseminator; he was also a media and communications advisor.
Roosevelt's advisors used private polls as vehicles to advance the president's legislative and public relations agendas, and as instruments to measure the popularity of policies not yet codified and candidates not yet announced. Thanks to these polls, Roosevelt had a secret weapon that loosened the bonds previously preventing the executive branch from becoming the leadership vehicle he envisioned it to be.
Of the ways in which the executive branch began to grow under Roosevelt, the assimilation of public opinion polls and the advice that accompanied them as an accepted function of the presidency signaled a historic change in the evolution of American politics
International Journal of Public Opinion Research 10:237-256 (1998)
International Journal of Public Opinion Research
---
Melvin G. Holli, professor of history and former chairman of the History Department (1991-1994) at the University of Illinois at Chicago, has authored thirty-five articles and fifteen books that have received numerous awards. Holli specializes in urban, ethnic, and political history. His latest work is The Wizard of Washington: Emit Hurja, Franklin Roosevelt, and the Birth of Public Opinion Polling (St. Martins Press, 2002), ISBN 0-312-29395-x
Emil Hurja: Michigan Presidential Pollster," Michigan Historical Review, Fall 1995
---
History
The poll as we know it today came into existence in the 1930s, but the art of determining how people are going to vote, who is going to win an election and what the public opinion of the day is has been practiced throughout U.S. history. A look at the time line below makes it clear that the poll has been making news for years, and will continue to do so.
1700s - Poll books of early politicians record who voted and how they voted.
1801-1809 - Jefferson Administration: Regular canvassing of voters – by individual political parties of party members only – begins. Voters are asked about their voting intentions only, and demographic questions or attitudinal questions are not included.
Nineteenth Century: Canvassing becomes widely utilized, with national parties using armies of volunteers to canvass voters.
1824: The first recorded straw vote appears in the Harrisburg Pennsylvanian; Andrew Jackson is the favored presidential candidate in Wilmington.
1850: J.D.B. DeBow, the director of the 1850 census, utilizes the concept of the random sample, sampling 23 counties and cross-tabulating data regarding marriage, schooling and inequality of wealth.
1888: The term "dark horse" is used by the Boston Journal to describe a candidate other than the leading contenders likely to emerge as a winner of an election. The process of election watching and candidate watching becomes known as horse-race journalism.
1892: The Democratic National Committee spends $2.5 million to circulate campaign pamphlets and personalized letters and sponsor 14,000 field workers and orators. The Republican National Committee spends $3.5 million in 1896 to sponsor what author Richard Jensen, writing in Public Opinion, calls polling, with an "intensity never matched before or since in a democratic society."
1896: Chicago newspapers conduct straw polls to determine the outcome of the McKinley-Bryan presidential election. The Chicago Record spends $60,000 plus to mail postcard ballots to each of the registered voters in Chicago and to a random sample of one voter out of every eight in twelve Midwestern states. A quarter of a million returns predict McKinley will win and are off by only .04 percent in Chicago, but fail outside of Chicago.
First three decades of the twentieth century: Straw polls become even more popular and are conducted by the Hearst Newspapers, New York Herald, Cincinnati Enquirer, Columbus Dispatch, Chicago Tribune, Omaha World-Herald and the Des Moines Tribune, among others.
1916: The Columbus Dispatch begins systematic polling in Ohio and by 1920 conducts polls using geographical locations and a quota system based on party, sex, religion, nationality and economic status. Literary Digest, a popular weekly magazine, begins the first of its straw polls, focusing on presidential elections.
World War I: Army psychologists administer intelligence and aptitude tests to get recruits into the right jobs. The art of designing questionnaires is improved, and the discovery of patterns of response through statistical analysis is made.
1920s: Advertising agencies and the Curtis chain pioneer buyer-attitude studies.
1930s: Media researchers, government and academic statisticians improve upon the sampling technique, adopting quota sampling.
1932: Henry Ling, psychologist and media, advertising and marketing expert, creates the first modern poll, the Psychological Barometer, for the Psychological Corporation (still in business) surveying public attitudes on various products. Ling's polls are conducted in home, not by mail, eliminating the problems of nonresponse.
1932: Mrs. Alex Miller runs for secretary of state in Iowa as a Democrat and her son-in-law tests a public opinion sampling technique developed while he was working on a doctorate degree. Mrs Miller wins, and her son-in-law, George H. Gallup, is in business.
1935: George Gallup, Archibald Crossley and Elmo Roper launch the modern attitudinal poll, asking those polled about more than just how they intend to vote, correctly predicting Franklin Delano Roosevelt's victory in 1936. The Gallup Poll is syndicated for newspapers. Roper conducts the Fortune Poll for Fortune magazine.
1936: Gallup gives Roosevelt 55.7 percent, Crossley predicts 53.8 percent and Roper says 61.7 – the president's actual share is 62.5 percent The Literary Digest predicts that Republican Alfred Landon will win and moves into polling infamy.
1936: King Features syndicates the Crossley Poll.
1940: President Roosevelt uses public opinion information gathered from polls to lead the public.
1940s: Media-supported or -conducted state polls such as Joe Belden's Texas Poll (1940), Mervin Field's California Poll (1947), the Des Moines Register Iowa Poll (1943) and the Minneapolis Tribune's Minnesota Poll (1944) are organized.
1948: Major polls and pollsters predict a Dewey landslide. Polling suffers a credibility gap.
1956: Harris survey begins.
1960: John F. Kennedy utilizes polls during his presidential campaign.
1960s: Polls are conducted by CBS/New York Times, NBC/Associated Press. ABC/Harris, the Washington Post and the Los Angeles Times. Time and Newsweek sponsor opinion polls.
1967: Exit polls are introduced by CBS News. Voters are asked demographic questions and whom they voted for. In 1972 CBS News adds questions about the mood and motivations of the voters.
1972 Amitai Etzioni's MINERVA system adds voting capability to the standard home telephone for conference calls of up to 30 people.
1976: Jimmy Carter hires pollster Patrick Cadell, and comes from behind to win. Cadell becomes the first pollster to become a full-fledged member of the inner circle at the White House.
1980: NBC predicts Ronald Reagan has won the presidency by 8:15 p.m., before the polls have closed in the western states
"A Primer on Polls" by Jean Marie Hamilton
---
www.pseudology.org